Strategic Project Savilahti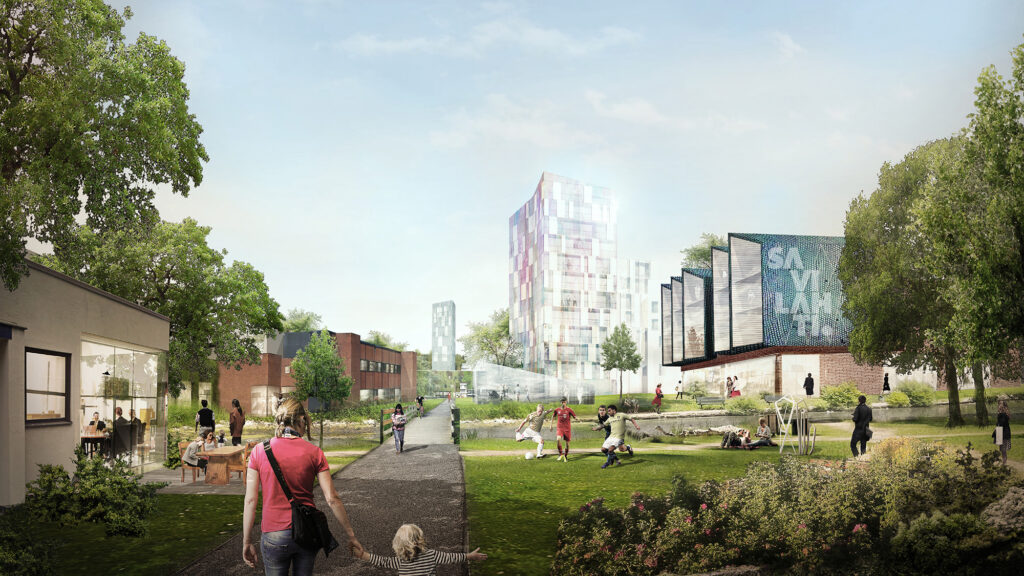 The development of the Savilahti area is a strategic key project of the city of Kuopio, with the goal of creating a future urban district with climate-smart and intelligent solutions.
Savilahti is the fastest-growing business area in Eastern Finland, home to three levels of education, an innovation environment, an area with over 200 companies, and a smart city experimental area for low-carbon solutions. Savilahti is also a city development target and a new residential area to be completed by 2030. Savilahti is evolving into a communal area for 35,000 people, work, innovation, study, smart city experiments, living, and leisure.
The development of Savilahti enhances the attractiveness of the city of Kuopio and provides new opportunities for business, innovation, research, work, and studies. The city is preparing for the future in various ways while building the new district of Savilahti and aims to be a pioneer in sustainable development and data economy. Smart solutions are being developed in three tiers:
1. Telecommunication infrastructure (e.g., 5G readiness and development)
2 .Data refinery smart city platform (storage of data, distribution among various stakeholders, and management of usage rights)
3. Applications and smart solutions utilizing data
Implemented or ongoing future solutions include:
Sustainable urban structure and housing experiments: e.g., wooden construction, centralized parking solution
Smart mobility: e.g., bus lanes on Savilahdentie road and development of walking and cycling paths, old depot access bridges
New use for rock caves: e.g., the Luola Sports and Events Center, which also serves as a regional shelter
Sustainable development: e.g., lake cooling for district heating, 4 solar power plants, use of recycled materials in infrastructure construction
Smart city development and data economy: e.g., ICT infrastructure solutions and Data Refinery smart city platform
Urban culture development: e.g., "Valo" (the light) district plan, artworks, tools for organizing events.
Further information
Antti Niskanen
Project Director
Retu Ylinen
Development Specialist